---

Welcome To Openworld FlashPresenter



Samples Gallery

Download

Download Openworld FlashPresenter Now!




Overview

Openworld FlashPresenter Features




Getting Started with Openworld FlashPresenter




Your Presentation Screen

PowerPoint Import

PowerPoint Import Wizard

Step 1 - Open Presentation

Step 2 - PowerPoint Slide Narration




Step 3 - Narration Results

Creating New Presentation

Getting Started

Video Setup

Video Encoding Setup

Transcript Setup

Slides Setup

Media Synchronization

Synchronization Overview

Editing Transcript

Synchronizing the Transcript

Contents Creation

Synchronizing Slides

Synchronizing Speakers

Hyperlinks and Resources Links Creation




Synchronizing Hyperlinks and Resources Links




Glossary Building

Creating Quizzes

New Quiz Creation

Quiz Properties Setup

Quiz Customization

Quiz Results Processing

Presentation Export

Exporting Your Presentation

Using HTTP Streaming technology for video/audio


delivery




Flash Media Server
Configuration Basics




Accompanying Tools

Video Converter

Video Joiner

Video Encoding Preferences

MP3 To FLV Converter

MP3 Compressor

Audio Uncompressor

MP3 Sound Recorder

Support

DEMO Mode Limitations

Software Activation and Order Information




Contact Information

Credits
Getting Started with Openworld FlashPresenter
---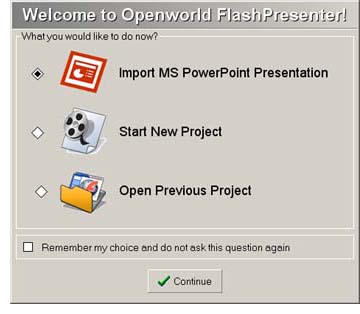 You can see the screen at right when you're starting Openworld FlashPresenter for the first time. As you can see, you have three options here:

Import MS PowerPoint Presentation lets you launch a special Wizard to easily narrate (if nesessary) and convert a PowerPoint Presentation into Openworld FlashPresenter Project file. As a result you'll get fully synchronized project with audiotrack, slides and "Contents" topics already in place.


Start New Project opens an empty workspace and you can start presentation creation from scratch, using video/audio files and speech transcript. You can import a static images, an SWF Flash movies or slides from PowerPoint presentation into your project. Then you need synchronize and export your project into Flash format.


Open Previous Project opens previous Openworld FlashPresenter Project file.