---

Welcome To Openworld FlashPresenter



Samples Gallery

Download

Download Openworld FlashPresenter Now!




Overview

Openworld FlashPresenter Features




Getting Started with Openworld FlashPresenter




Your Presentation Screen

PowerPoint Import

PowerPoint Import Wizard

Step 1 - Open Presentation

Step 2 - PowerPoint Slide Narration




Step 3 - Narration Results

Creating New Presentation

Getting Started

Video Setup

Video Encoding Setup

Transcript Setup

Slides Setup

Media Synchronization

Synchronization Overview

Editing Transcript

Synchronizing the Transcript

Contents Creation

Synchronizing Slides

Synchronizing Speakers

Hyperlinks and Resources Links Creation




Synchronizing Hyperlinks and Resources Links




Glossary Building

Creating Quizzes

New Quiz Creation

Quiz Properties Setup

Quiz Customization

Quiz Results Processing

Presentation Export

Exporting Your Presentation

Using HTTP Streaming technology for video/audio


delivery




Flash Media Server
Configuration Basics




Accompanying Tools

Video Converter

Video Joiner

Video Encoding Preferences

MP3 To FLV Converter

MP3 Compressor

Audio Uncompressor

MP3 Sound Recorder

Support

DEMO Mode Limitations

Software Activation and Order Information




Contact Information

Credits
Audio Uncompressor
---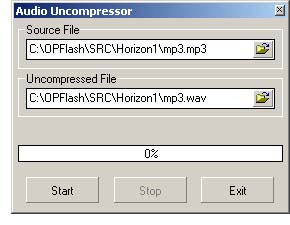 How to uncompress an audio file to WAV format:



Choose Tools/Audio Uncompressor main menu item. A dialog will appear where you need to do the following:



Assign a source (any audio or video format, supported by your Windows Media subsystem) and target (WAV) file names.



Click "Start" button to start uncompression.

WARNING: This feature may not work or may work slowly if you have DirectX installed of version less than 8.1 (DirectX v. 9.0 or above is recommended).